Mac Blu-ray Player makes you share the joy with best friends
Really want to let your friends know about the latest movies you have watched and share the joy with them? Now it is the most convenient time to do so. At present, Mac Blu-ray Player offers you a shortcut button 'share' on the panel. By clicking this button, you can go to the popular social networks such as Facebook, Twitter and so on, then post your reviews or comments on them directly. The best thing is you do not need to rewrite the reviews in the textbox on Facebook's web page and submit again. Just directly post it through the software. By the way, there are some prepared review samples in the share's window, which you can use to express your feelings to the movie directly if you don't want to write them by yourself. So how about this function? Is it cool or what? Why not try it immediately and find out the cool performance by yourself?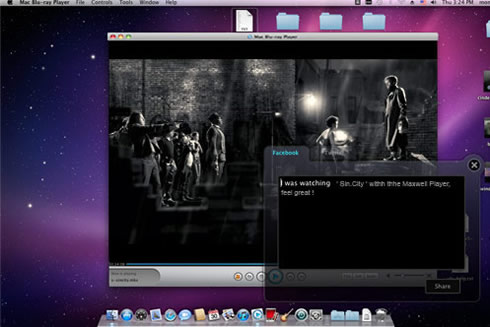 About Macgo Inc
Macgo Inc is an emerging name in the audio/video entertainment arena. The company was founded in 2008 and, since then, has gained valuable experience and popularity in developing audio/video conversion tools and software. Macgo Inc has recently developed the world's very first universal Blu-ray player which supports Blu-ray on Mac platforms as well as on Windows.
Please like us on
Facebook
, so you can get more timely updates and discount information, such as Giveaway campaigns. Meanwhile, you can also help us to improve our products. Thanks a lot.
Macgo Mac Blu-ray Player Pro
The first and best Blu-ray media player for Mac. Support Original Blu-ray Menu, ISO files, and BDMV folder, etc.
Mac Download